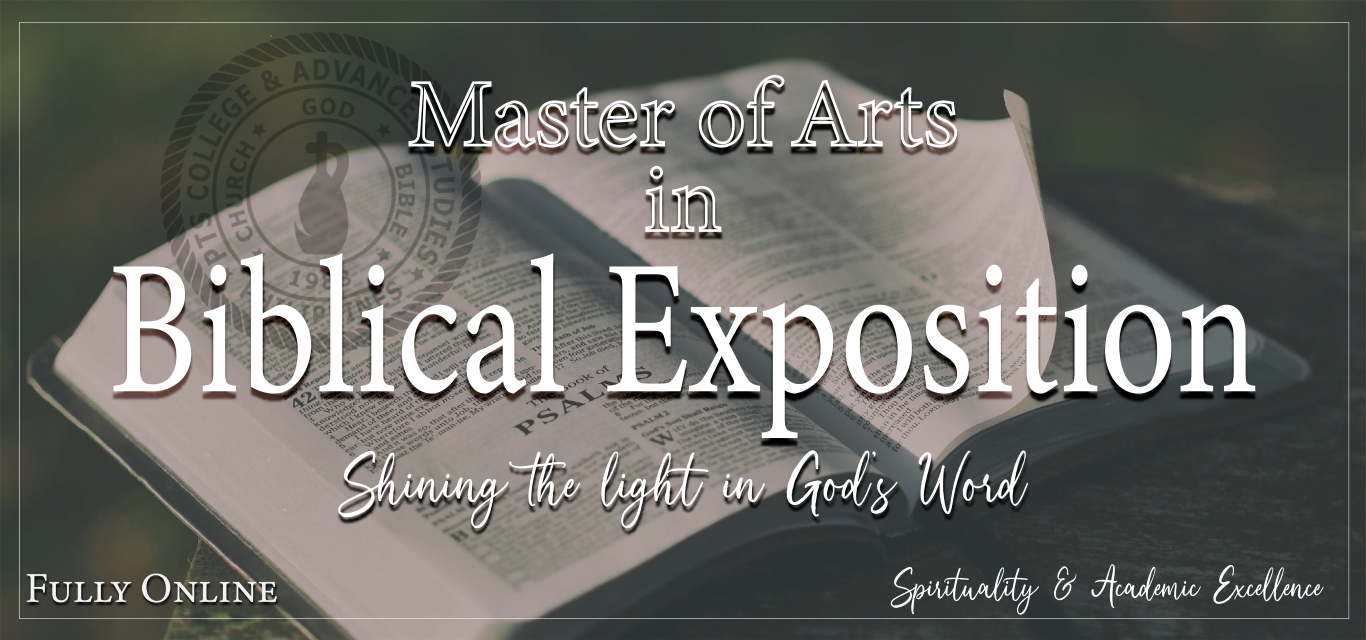 PROGRAM DESCRIPTION
Since it is essential for pastors to fulfill the mandate of preaching God's Word (2 Timothy 4:1-4), the Communicating God's Word (CGW) Expository Preaching Program (EPP) has developed a Masters of Arts in Biblical Exposition program that is designed to train pastors and students called into the pastoral and teaching ministry. This program has been intentionally and strategically created in such a way as to provide preachers and teachers with the necessary abilities not only to do expository preaching and teaching but also to train and mentor others to become expository preachers and teachers that focus their ministry in the proper interpretation and communication of God's Word.
PROGRAM OUTCOMES
Learn the Proper Exegetical Procedure for Expository Preaching & Teaching.

Learn the Priority and Methodology of Expository Preaching & Teaching.

Develop the Skills Needed to Train and Mentor other pastors and teachers in the field of Expository Preaching & Teaching.
PROGRAM CURRICULUM
This program consists of fifteen online sixteen-week courses taught over a two-year or three-year period, depending upon the needs of the student. Many of the courses are offered at three credits, with a few at one credit for a total of thirty-seven-semester credits. Each course consists of lecture videos and demonstration videos that will instruct the students on how to understand the course materials and how to complete the exegetical and communication assignments taught throughout each course.
Curriculum Program Structure
Click to expand
Two-Year Program
Year One – First Semester

EBS05

Foundation of Exegesis

3 credits

EPR05

Foundation of Preaching & Teaching

3 credits

EPR10

Preaching & Teaching of Epistolary Genre

3 credits

GFME10

Preaching & Teaching Clinic I

1 credit

Year One – Second Semester

EBS10

Advanced Exegesis I

3 credits

EBS20

Exegesis of Romans 1-8

3 credits

EPR20

Preaching & Teaching of Narrative & Poetic Genres

3 credits

GFME11

Preaching & Teaching Clinic II

1 credit

Year Two – First Semester


EBS15

Advanced Exegesis II

3 credits

EBS25

Exegesis of Romans 9-16

3 credits

EPR30

Methodology of Sequential Exposition

3 credits

GFME15

Preaching & Teaching Internship I

1 credit

Year Two – Second Semester

EPR35

Sequential Exposition of Romans

3 credits

EPR40

Preaching & Teaching of Prophetic Genre

3 credits

GFME16

Preaching & Teaching Internship II

1 credit
Three-Year Program
Year One – First Semester

EBS05

Foundation of Exegesis

3 credits

EPR10

Preaching & Teaching of Epistolary Genre

3 credits

GFME10

Preaching & Teaching Clinic I

1 credit

Year One – Second Semester

EBS10

Advanced Exegesis I

3 credits

EPR05

Foundation of Preaching & Teaching

3 credits

GFME11

Preaching & Teaching Clinic II

1 credit

Year Two – First Semester

EBS15

Advanced Exegesis II

3 credits

EPR20

Preaching & Teaching of Narrative & Poetic Genres

3 credits

Year Two – Second Semester

EBS20

Exegesis of Romans 1-8

3 credits

EPR40

Preaching & Teaching of Prophetic Genre

3 credits

Year Three – First Semester

EBS25

Exegesis of Romans 9-16

3 credits

EPR30

Methodology of Sequential Exposition

3 credits

GFME15

Preaching & Teaching Internship I

1 credit

Year Three – Second Semester

EPR35

Sequential Exposition of Romans

3 credits

GFME16

Preaching & Teaching Internship II

1 credit